Graduate Student Directory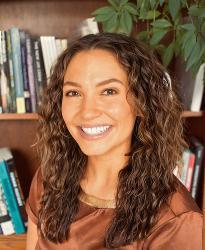 Title
Division Social Sciences Division
Department
Phone

(831) 459-4450

 (message only)

Email
Website
Office Location

Merrill College Academic Building, 123

Mail Stop Merrill/Crown Faculty Services
Mailing Address

1156 High Street
Santa Cruz CA 95264
Research Interests
Global health
Non-state health services (NGOs, foreign aid, charities, etc.)
International 'development'
Latin America; the Caribbean
Health rights
Citizenship
Borders
Necropolitics
Surveys/ mixed methods/ subnational comparative approaches
Besides Vitale's own work, she's also served as a research assistant for Professor Sara Niedzweicki's book project "Immigration and Social Services in Latin America" where she reviewed and assiged qualitative codes to Dominican migration and social service laws (including public health service laws, conditional cash transfers (CCTs), and pension laws).
Biography, Education and Training
Lucia Vitale is an interdisciplinary global health scholar who uses comparative political science methods, theories in sociology, and also geography to explore multi-scale effects of global health governance and primary healthcare access. While her research is geographically located along the border of the Dominican Republic with Haiti, non-state transnational decision making spaces are central to her work.
Vitale holds a B.A. from the University of Wisconsin, Madison where she graduated with honors in International Relations. After graduating with her B.A. in 2015, Vitale taught English in Comayagua, Honduras, served as a Peace Corps volunteer in the Dominican Republic (DR), and then worked as a contractor for USAID's Local Works program where she investigated access to documentation, and assessed the needs of cooperatives at the community level.
Honors, Awards and Grants
Selected Publications
Sparke, Mattew; Vitale, Lucia "COVID's Co-Pathogenisis" Syndemics Magazine. https://syndemic.ca/2022/02/04/covids-co-pathogenesis/
· Rehrig, J., Vitale, L., Moore, L., "Evaluating Patients Using Mission Services in the Dominican Republic" International Journal of Academic Medicine. Accepted for publication December 2019
· Vitale, Lucia. Institutions Map: Viability Information Guide. United States Agency for International Development/ Dominican Republic mission. 2019.
· Vitale, Lucia. Border Documentation. United States Agency for International Development/ Dominican Republic mission.
Vitale, Lucia. Virtual Trust: Building Confidence at a Distance. Digital Fieldwork. http://sigla.georgetown.domains/digitalfieldwork/virtual-trust-building-confidence-at-a-distance/
·
Selected Presentations
"The Spectrum of Health Citizenship: A Scalar Analysis of Health Rights during COVID along the Dominican-Haitian Border" ISA 2021 Conference, April 2021.

"The Political Economy of Global Health" CMMU 163 with Andrea Steiner, Winter 2021.

"Health Systems Strengthening in Times of COVID: a Research Desgin" The Institute for Qualitative and Multi-Methods Research (IQMR) Conference, June 2020.

"Who Governs during COVID-19?" SOCY 194 with Professor Reardon, Spring 2020.

"#357. COVIDCalls 10.13.21. Researcher's Roundtable" Podcast episode, October 2021. https://twitter.com/i/broadcasts/1BdxYwlMQMLGX
Teaching Interests
Teaching assistant, SOCY/LGST 122: Sociology of Law/ Jaimie Morse (Spring 2021)
Teaching assistant (TA), CMMU 165: Global Health/ Andrea Steiner (Winter 2021)
Teaching assistant (TA), CMMU 163: Healthcare Inequalities/ Andrea Steiner (Fall 2020)
Teaching assistant (TA), SOCY 194: Living and Learning in the 'Pandemicene'/ Jenny Reardon (Spring 2020)
Reader, SOCY 122: The Sociology of Medicine/ Jenny Reardon (Winter 2020)