Graduate Student Directory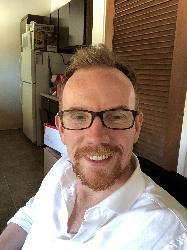 Title
Division Social Sciences Division, Humanities Division
Department

Politics Department
History of Consciousness Department

Phone
Email
Website
Office Location

Merrill College Academic Building, 6 and 9

Office Hours By appointment
Mail Stop Merrill/Crown Faculty Services
Summary of Expertise
Political Economy, Finance, Innovation, Political Theory, Philosophy, International Relations & Global Politics
Research Interests
Venture Capital, Finance, Innovation, Worlding, Justice, Critical Theory
Biography, Education and Training
M.Sc., International Relations Theory (with Distinction),
London School of Economics and Political Science, London, United Kingdom, 2016
Dissertation Title: International Security Dialectics: Contradiction and Paradox in an Era of Globalized Risk and Populist Nationalism
B.A., Philosophy,
Macquarie University, Sydney, Australia, 2013.
Selected Publications
• 'The Necropolice-Economy: Mapping Biopolitical Priorities and Human Expendability in the Time of COVID-19', Societies 12(2). 2022. https://doi.org/10.3390/soc12010002
• 'The Never-End of History: Finding Meaning in the World Historical Moment', Caustic Frolic 4(1) (Fall 2020: New York).
Teaching Interests
Instructor / Lecturer
• Crown Core (College 1) - Ethical and Societal Implications of Emerging Technologies (Fall 2021) • POLI 17 - US and the World Economy (Summer 2021)
• POLI 160D - International Political Economy (Summer 2020)
Teaching Assistant
• POLI 140D - The Politics of East Asia (planned - Winter 2021)
• POLI / LGST 105C - Modern Political Thought (Spring 2020, Winter 2020)
• POLI 17 - US and the World Economy (Spring 2019, Fall 2020)
• POLI 160C - Security, Conflict, Violence, War (Winter 2019)
• POLI / LGST 105A - Ancient Political Thought (Winter 2018, Fall 2019) • POLI 3 - Keywords: Political Concepts (Fall 2018)